Clear and Confident Smiles with 3M™ Clarity™ Advanced Clear Braces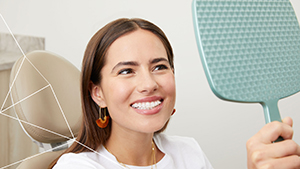 At Maple Orthodontics, we offer Clarity™ Advanced clear braces as a discreet alternative to traditional metal braces. Clarity™ Advanced clear braces use a ceramic material that blends in with the natural color of your teeth, making them much less noticeable than metal braces.
Clarity™ Advanced clear braces work in the same way as traditional braces, using brackets and wires to gradually shift your teeth into the desired position. However, their clear appearance makes them a popular choice for patients who want to straighten their teeth without the look of metal braces.
Our board-certified orthodontists and staff use the latest technology and techniques to ensure that your Clarity™ Advanced clear braces treatment is as effective and efficient as possible. In the hands of our experienced doctors most patients finish their treatment ahead of their original treatment time estimation.
In addition to their discreet appearance, Clarity™ Advanced clear braces are also designed for patient comfort. The brackets are rounded and smooth, reducing irritation to the gums and cheeks. They are also strong and durable, able to withstand the forces of orthodontic treatment without staining or discoloration.
At Maple Orthodontics, we understand that every patient is unique, and we work with you to develop a customized treatment plan that meets your individual needs and goals. If you're considering Clarity™ Advanced clear braces for yourself or your child, contact us today to schedule a complimentary consultation. Our team of experts will guide you through every step of the treatment process, ensuring that you achieve the straight, healthy smile you deserve.
Clarity Advanced clear braces give teens the versatility to go from blending in to being bold simply by changing ligatures (bands). Have fun finding a look that totally expresses who you are and makes you smile. With more than 20 colors to choose from, you can coordinate with life's biggest moments while on the path to lifelong oral health.
3M and Clarity are trademarks of 3M. Used under license in Canada. © 3M 2019. All rights reserved.